---
Sparkle and Shine your way to a memorable event!
Nothing can lift our spirits quite like a sparkling bouquet of balloons! Balloons can convey a multitude of messages such as Get Well, Sympathy, Birthday, Anniversary, or Friendship. Some of my favorite events to provide balloons for are children's birthday parties. Just take a look at a child's eyes as their favorite character cheerfully floats beside their gift or cake table. It's like a superhero has come to the party!

So what exactly sets my balloon bouquets apart from those from a retail shop?

QUALITY - The latex balloons I use are the finest balloon grade by Qualatex. Pair some with a favorite character or themed foil balloon and you will have a stunning and unforgettable arrangement!

SPECIAL REQUESTS - During any consultation, it usually becomes clear if there are specialty balloons that the client is requesting. I have several suppliers all with extensive inventory so it's likely that I can procure exactly what you need in a matter of days if I don't already have it. Don't settle for the selection a store has - get what YOU want!

SAVINGS PASSED ALONG - I operate a small, but thriving, business from a little industrial workshop so I simply do not have the overhead a retail store does. Really the only thing I have to pay for is helium. Low overhead means YOU win!

CONVENIENCE - The very best benefit of choosing Black Tie Baskets for your balloon needs is sheer convenience. I'm a one-woman operation so I am not a slave to specific working hours. If you need something made late in the evening, I'm just a phone call or text away. Either way, I'm on top of it!

---

"Don't settle for less - get what YOU want!"

---
| | | |
| --- | --- | --- |
| | Call Today - 760.636.2347 | |
Powered by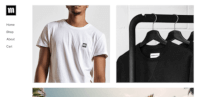 Create your own unique website with customizable templates.